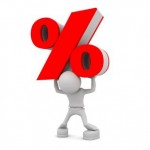 It's here! What a wonderful Christmas present for the Australian public – and no, we're not talking about the (10th) pair of argyle socks that special family member stuffed in your Christmas stocking.  RBA has cut its official interest rate to 3%, matching the record low of the GFC in 2009.
The cash rate lowered by 0.25% overnight from 3.25%.
The Financial Review reported that "Treasurer Wayne Swan lashed out at commentators and some media for describing the current cash rate as an "emergency" setting, saying conditions were very different to 2009, when the official interest rate was last at 3 per cent".
So what are your thoughts on the  rate cut? I am certain there are a lot of Australian households sighing with relief on this news.  Banks seem to be quite responsive to the cut. Time to keep our fingers crossed (and arms, and legs) and hope banks pass this cut on just like ING have decided to do.